The Chaudry family has been a pioneer in the art of tailoring since 1950. Through the years, they have been associated with the clothing business as one of its key players. When our Founder and CEO Waheed Chaudry graduated from Government College Lahore as a young man, it was his father's heartfelt desire that he receives training as a designer and takes the family trade to new heights. One of his uncles already being an acclaimed menswear designer in London, Waheed followed in his footsteps and landed in London in 1974. Here, he studied the various aspects of tailoring at institutes like The Tailor and Cutting Academy, The School of Dressmaking and Design, The London Academy of Modelling, and The College for Distributive Trades.

Waheed Chaudry acquired a taste for the finer things in life during his years at the esteemed London College of Fashion. Upon returning to Pakistan, it became a lifelong passion for him to build a brand that would allow him to bring his training as a couturier to life. With him, he also brought technologies like fused underlining, which were previously unheard of in Pakistan; the driving force behind all efforts was a desire to completely transform the local tailoring industry and contribute meaningfully to his beloved city of Lahore. Dandy Designs was the culmination of this and since 1979, the ethos of our brand has been to make fine tailoring an affordable luxury for all. As a brand, Dandy Designs is guided by the aim to provide fine quality tailoring promptly, a principle that Waheed Chaudhry instilled early on.

Throughout his illustrious career in the tailoring business, Waheed Chaudry and Dandy Designs have had the pleasure of dressing some of the foremost people in the nation, such as heads of state and men of consequence. He measured and cut suits for the renowned Pir Pagara, as well as numerous other notable personalities and politicians. Such examples include various Presidents and Prime Ministers of Pakistan such as Prime Minister Zulfiqar Ali Bhutto, Prime Minister Zafar Jamal, Prime Minister Chaudhry Shaujat Hussain, President Pervez Musharraf, and Prime Minister Imran Khan.The list is non-exhaustive and also includes several Chief Justices of Pakistan such asChief Justice Iftikhar Muhammad Chaudhry and Chief Justice Tassaduq Hussain Jillani. Recently, Dandy Designs has also included the name of the Chief Minister of Punjab Usman Buzdar in the prestigious list of renowned Dandy customers. Without a doubt, Dandy Design has the honor and privilege to serve and represent Pakistan on various national as well as international events.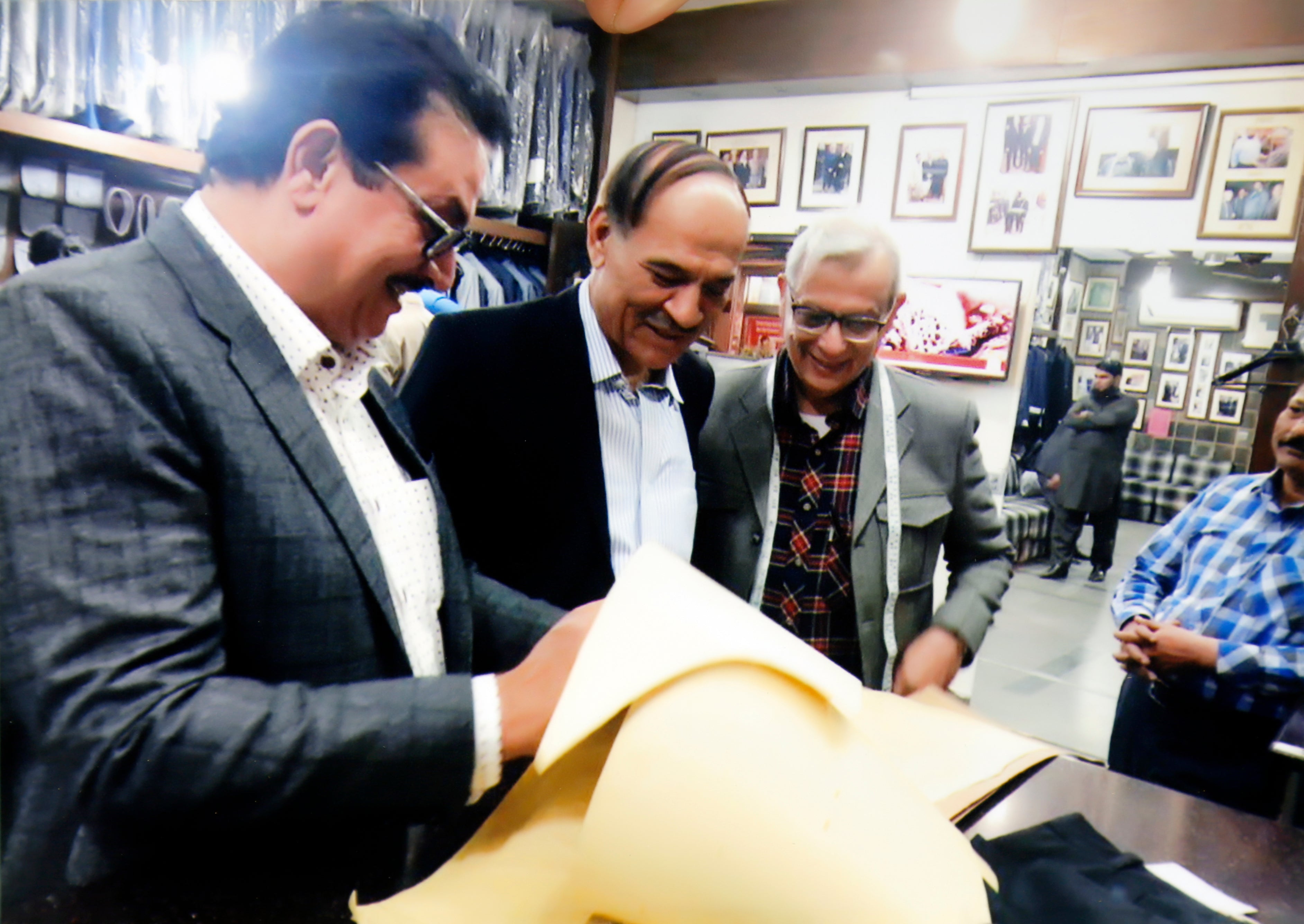 Waheed Chaudry is also a dedicated educationist, driven to impart the knowledge he has gathered over the years and enrich the field of tailoring for many generations to come. From 1994-1998, he served as a senior faculty member at the Pakistan Institute of Fashion and Design in Lahore, before going on to establish his school under the name of the Dandy School of Fashion Design in 1999. Today, Dandy School of Fashion Design graduates are the pride and honor of Waheed Chaudhry, working with some of the leading brands in Pakistan and shining in their respective fields. During this time, he also traveled to Paris for further training at the École de la Chambre Syndicale de la Couture Parisienne, committed to his goal of always improving and learning.

Beginning with a small team of a few trusted tailors and pattern makers, Waheed's vision has built Dandy Designs to where it now is. Dandy Designs currently has five locations across Lahore, housing more than 350 artisans. At any of our brick-and-mortar establishments, our clients can be assured of enjoying a standard of service that is unparalleled. All you have to do is walk in to find yourself spoilt for choice when it comes to fabric and have access to a complete selection of customization options that give any ensemble a touch of finesse.
Our Purpose
We believe our purpose is to inspire confidence that people admire. To provide a made to measure experience at ready-to-wear prices, we at Dandy Designs are innovating and pushing the boundary of traditional garment-making techniques. In this way, we ensure our customers have an extensive range of options at their disposal. From customary formals like sherwanis to trendy suits and separates, our offerings help you build a wardrobe that is well suited to all your apparel needs.
Our Core Values
At Dandy Designs, we aim to help you dress to impress. Our brand values enable us to achieve that goal and maintain our reputation as an industry change-maker committed to bringing about thoughtful change in made-to-measure men's clothing. We believe the creation of a truly unique piece of clothing is a collaborative process between the designer and the wearer. To this end, our focus is always on the needs of our customers so that we may cater to the most suitably.

Being Customer-Centric
Any decision we make is motivated by our drive to provide customers the very best product and service. Who is our focus? You are.

Thinking Out of the Box
We do not believe in doing things the same old way- at Dandy, we are constantly engaged in thinking out of the box to enhance your apparel experience. Be it new stitching techniques or a more streamlined online.