8 Summer Waistcoats that all Men should have in their Wardrobe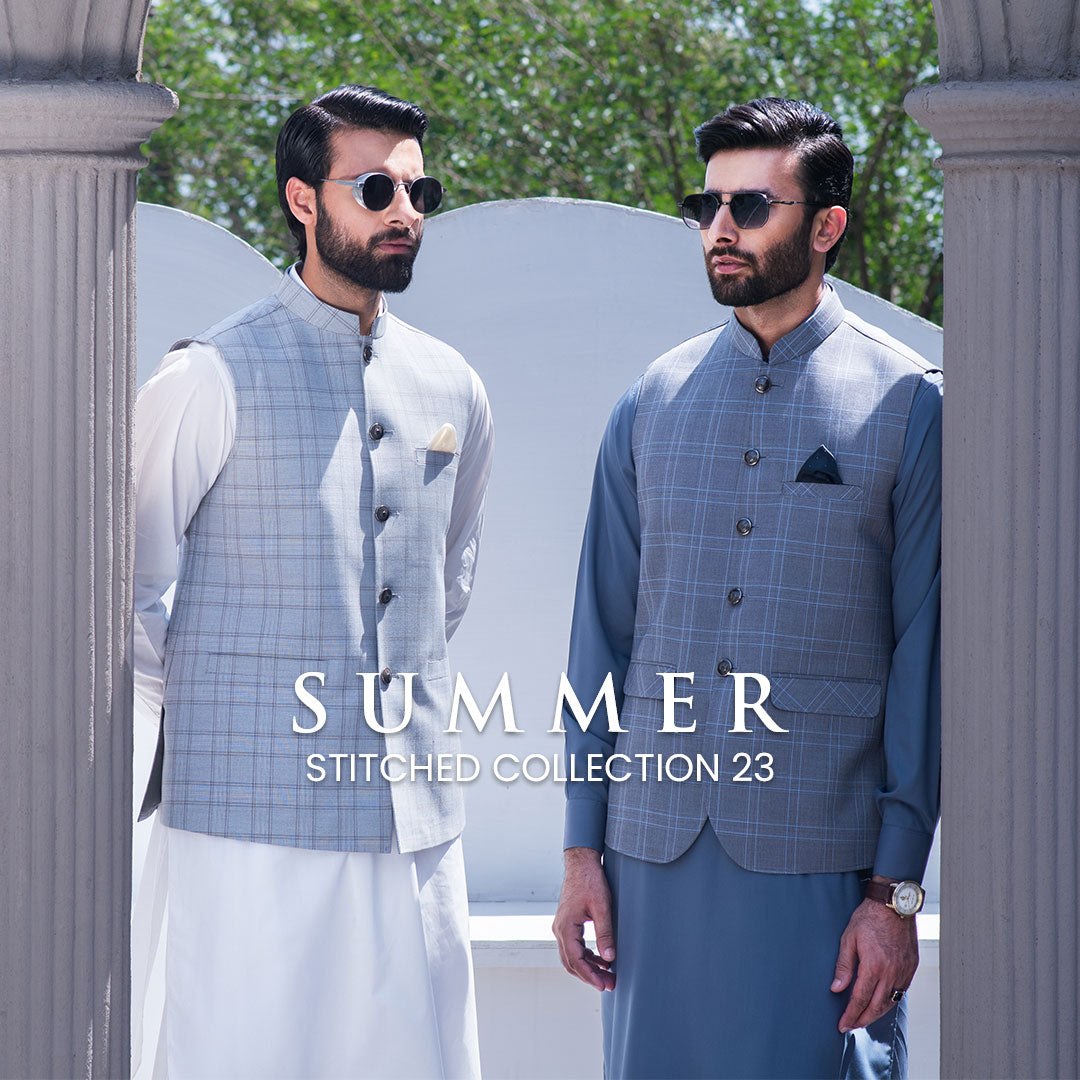 Whenever it comes to styling a waistcoat with a shalwar kameez, you might get confused about selecting the color, design, and fabric that compliments your overall attire and meet your style, preference, & taste, also letting you define your unique style.
Summer Waistcoats for men are considered as a true icon of fashion history that adds a touch of class to any summer closet. Whether you're channeling your inner dandy or seeking a unique addition to your style, investing in a men's waistcoat is a brilliant choice.
Nowadays, men are increasingly drawn to the allure of waistcoats as a wardrobe essential. It displays a myriad of styling options, allowing individuals to express their unique personalities through various fabrics, colors, and patterns. Whether it's a business meeting, or a special occasion, the premium quality mens waistcoat has become a go-to choose for fashion-forward men who intend to make an impressive statement with their impeccable choices.
Summer Fabric Waistcoats
Now that summer is in full swing, it's time to update your wardrobe with waistcoats that are ideal for this climate. Knowing the correct fabrications is essential if you want to get the most out of your purchasing. Therefore, we at Dandy Designs strongly advise using breathable, light materials that will keep you feeling cool and comfortable during the summer. Here are the top contenders for mens summer waistcoats:
Cotton:

When it comes to comfort, nothing beats classic cotton. Even on the warmest days, its natural weave keeps you classy & comfortable.
Tropical:

This fabric is made specifically for tropical climates, as its name suggests. It is an excellent option for remaining comfortable in hot and muggy conditions.
Wash & Wear:

This type of material is wrinkle-resistant and simple to maintain, making it ideal for summertime daily wear. Without worrying about taking too much time for ironing and maintenance.
It's the perfect time to explore some light and stylish gents' waistcoats that will keep you comfortable in this summer season. In this blog, we present our 8 must-have summer collection waistcoats for every man's wardrobe.
Perfection in White Linen Waistcoat
When it comes to summer fabrics, linen is a first choice. The white waistcoat displaying stylish metal buttons epitomizes classic summer style. Its tropical fabric keeps you cool even on the hottest days. The crisp white color offers a clean and polished appearance, making it ideal for both formal and semi-formal occasions.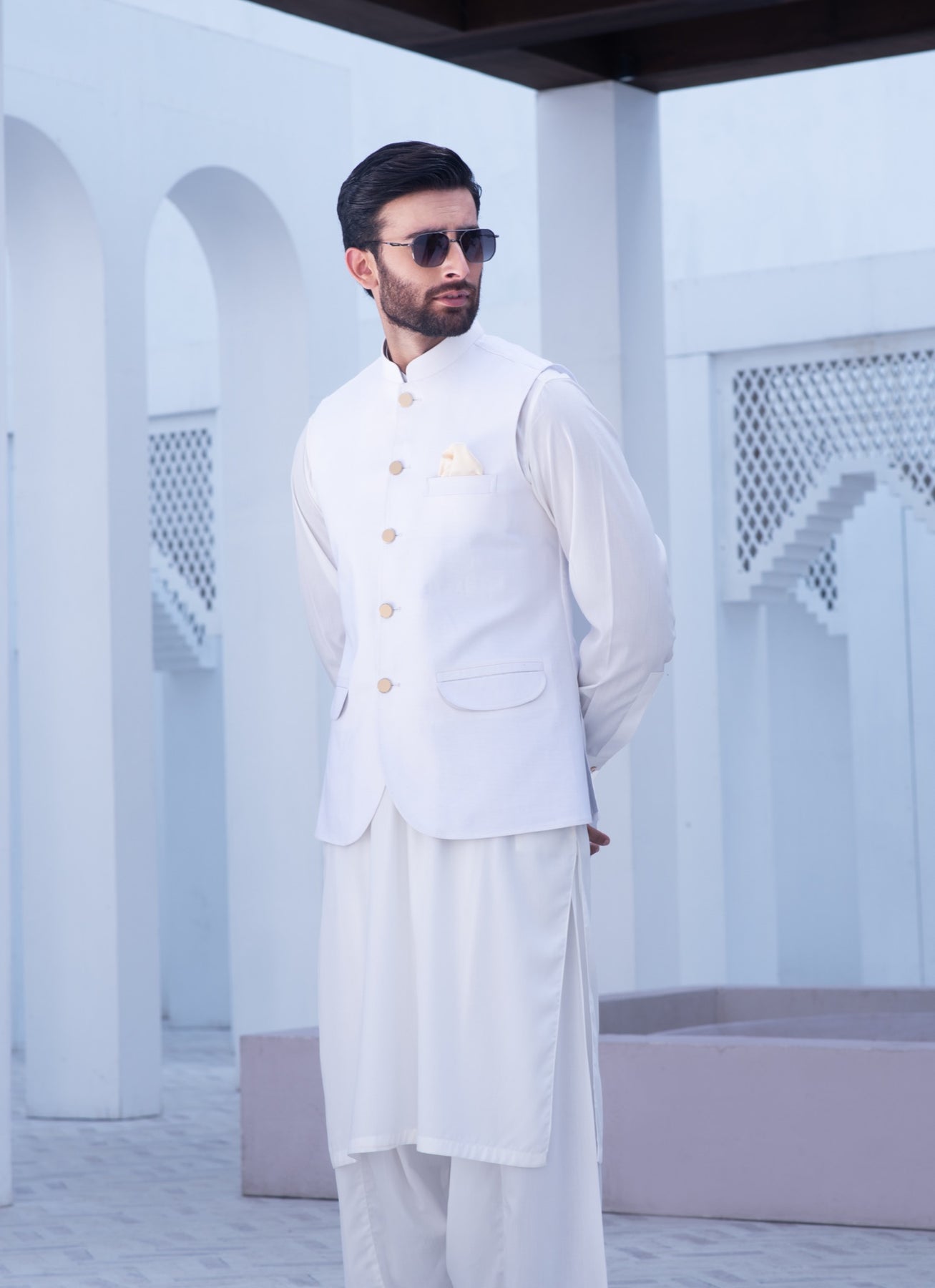 Silver Grey Check Tropical Waistcoat
The silver-grey checkered waistcoat displays refined appearance with a touch of modern flair. The subtle check pattern adds visual interest to light base color while maintaining a versatile look & pairing it up with a white Boski shalwar kameez makes the perfect combo.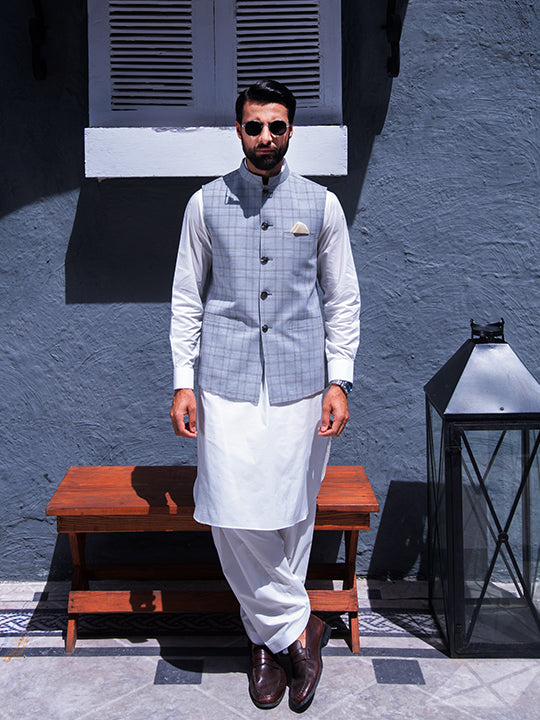 Classic Black Waistcoat
The Plain Mens Black Waistcoat crafted from high-quality tweed fabric offers a perfect blend of style and comfort. Its classic black hue lends versatility, making it an ideal addition to any formal or semi-formal.
Whether you're attending a business event, or simply looking to upgrade your wardrobe, this stylish waistcoat design is a reliable choice. With its sleek design, it goes with all base color and makes the perfect combo for every occasion.
Embody individuality in Beige Waistcoat for Men
Neutral tones are a summer favorite, and the mens beige waistcoat fits the bill perfectly. This waistcoat is appropriate for a range of occasions since it hits the ideal balancing act between casual and elegant. The beige tropical waistcoat can be worn with light-colored kurta and tailored trousers for a sophisticated summer look, whether it's for a daytime celebration or a dinner party in the summer.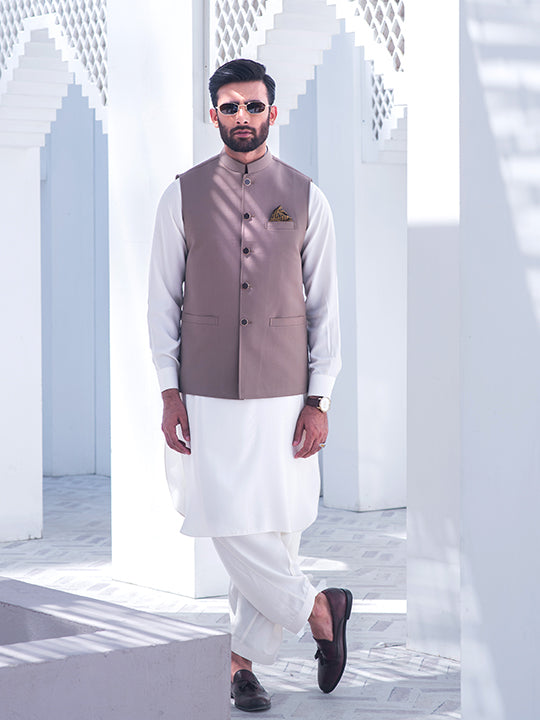 Grab Attention in Grey Waistcoat
The grey tropical waistcoat combines simplicity and style. The grey waistcoat serves as the ideal blank canvas for your summer outfits. As it comes in a simple waistcoat design and looks great when paired with a striking black shalwar kameez and is sure to attract attention.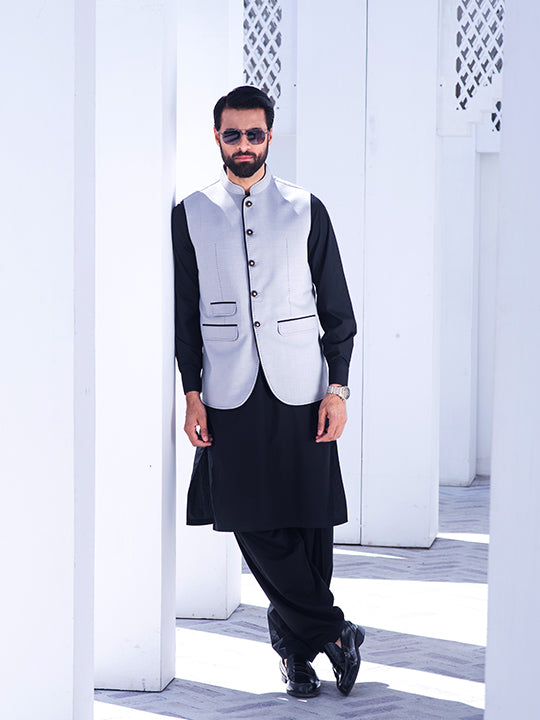 Blue Birdseye Waistcoat
If you desire for a dapper & distinctive summer outfit, the Blue Birdseye tropical waistcoat is the way to go. The Birdseye pattern adds texture and dimension to the waistcoat, making it stand out in any crowd. Pair it with a royal blue shalwar kameez for a charming appearance at formal gatherings or upscale events.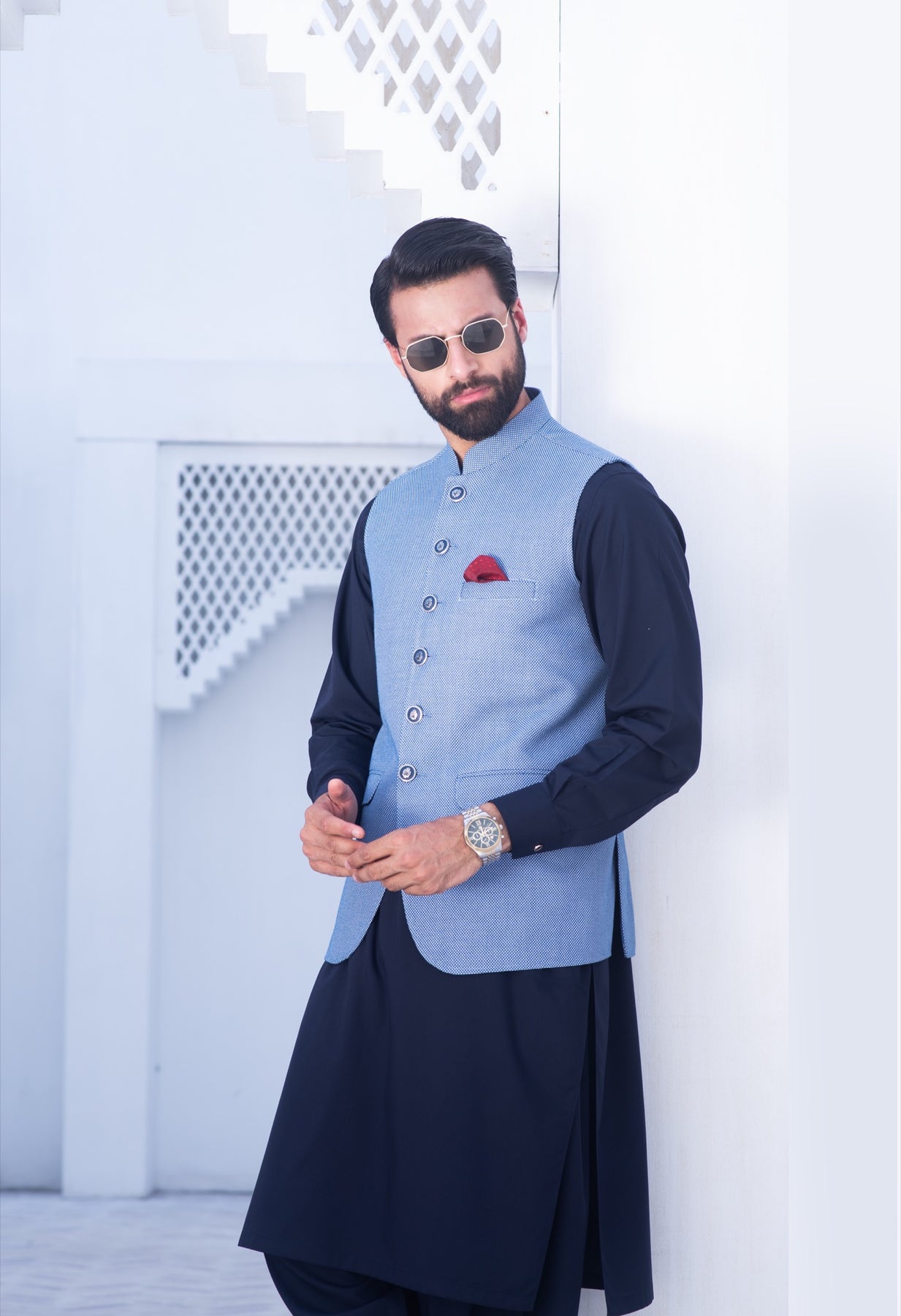 Look Graceful in whole Grey
The steel grey tropical waistcoat blends traditional and modern styles. It's more sophisticated due to its darker tone, which makes it appropriate for more formal settings. It looks sharp and professional when paired with a grey shalwar kameez, making it ideal for summer evening gatherings.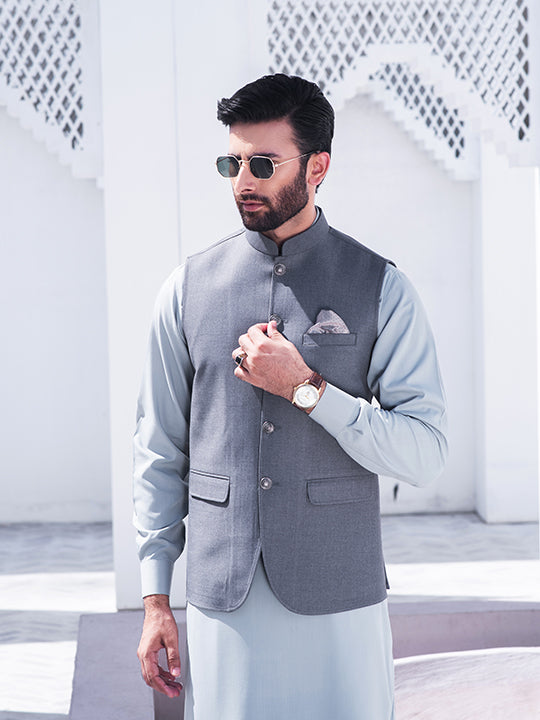 Give a Royal look in Navy Blue Waistcoat
The ever-versatile navy-blue waistcoat is a must-have for any list of waistcoats. This crucial piece of clothing is a go-to choose for practically any situation. While the tropical keeps you cool on hot summer days, its deep blue tone emanates elegance. The navy blue will never let you down whether you're going to a wedding, a business event, or a social gathering.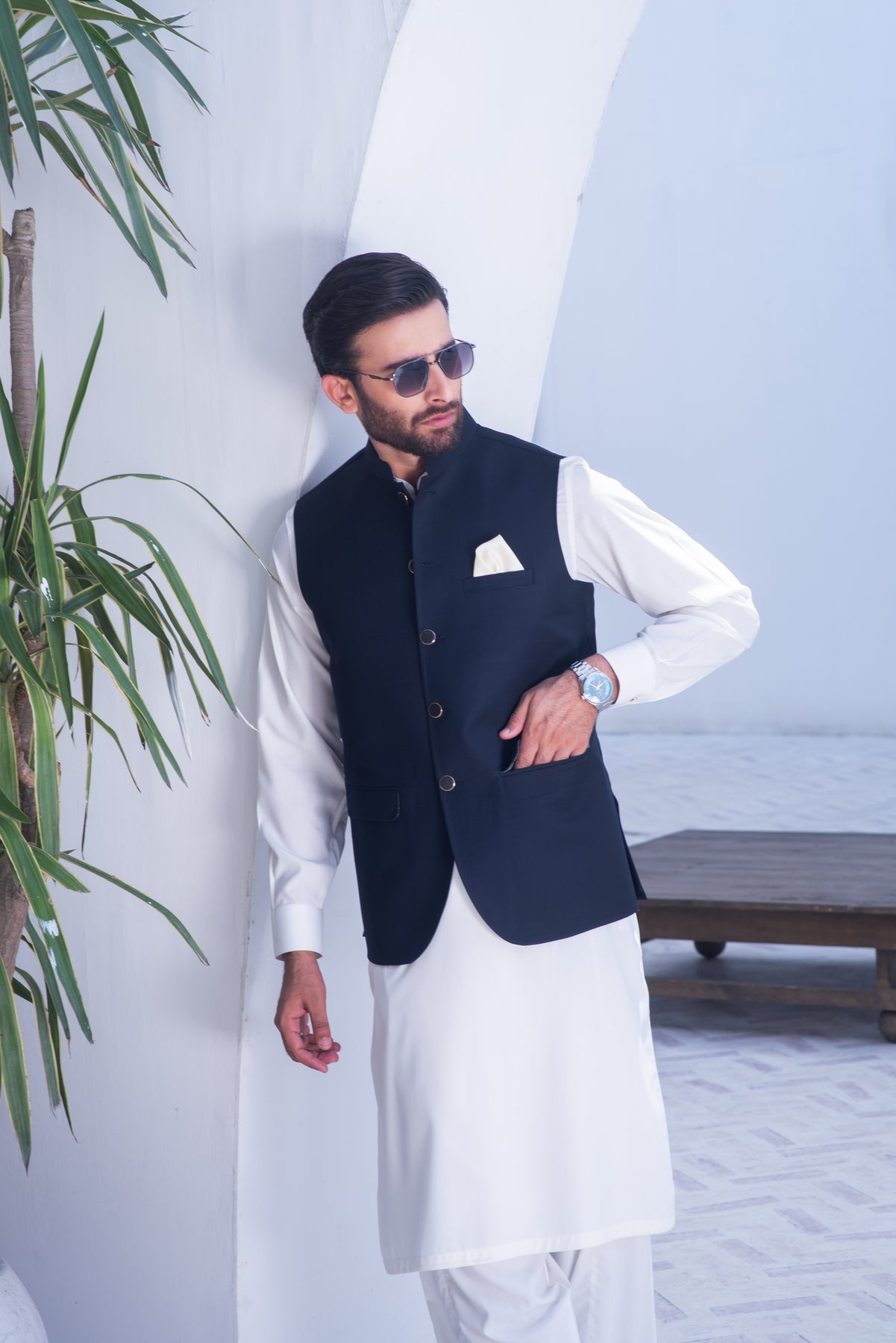 As the best men's clothing brand in Pakistan, Dandy Designs focuses on providing the best waistcoat designs along with quality fabric that can add a refined touch to your summer wardrobe. You'll be able to put together chic and sophisticated outfits for a variety of occasions with our summertime waistcoat essentials. These summer waistcoats will keep you cool, cozy, and unquestionably fashionable all summer long.