Shalwar Kameez with Waistcoat, The Perfect Blend of Tradition and Trend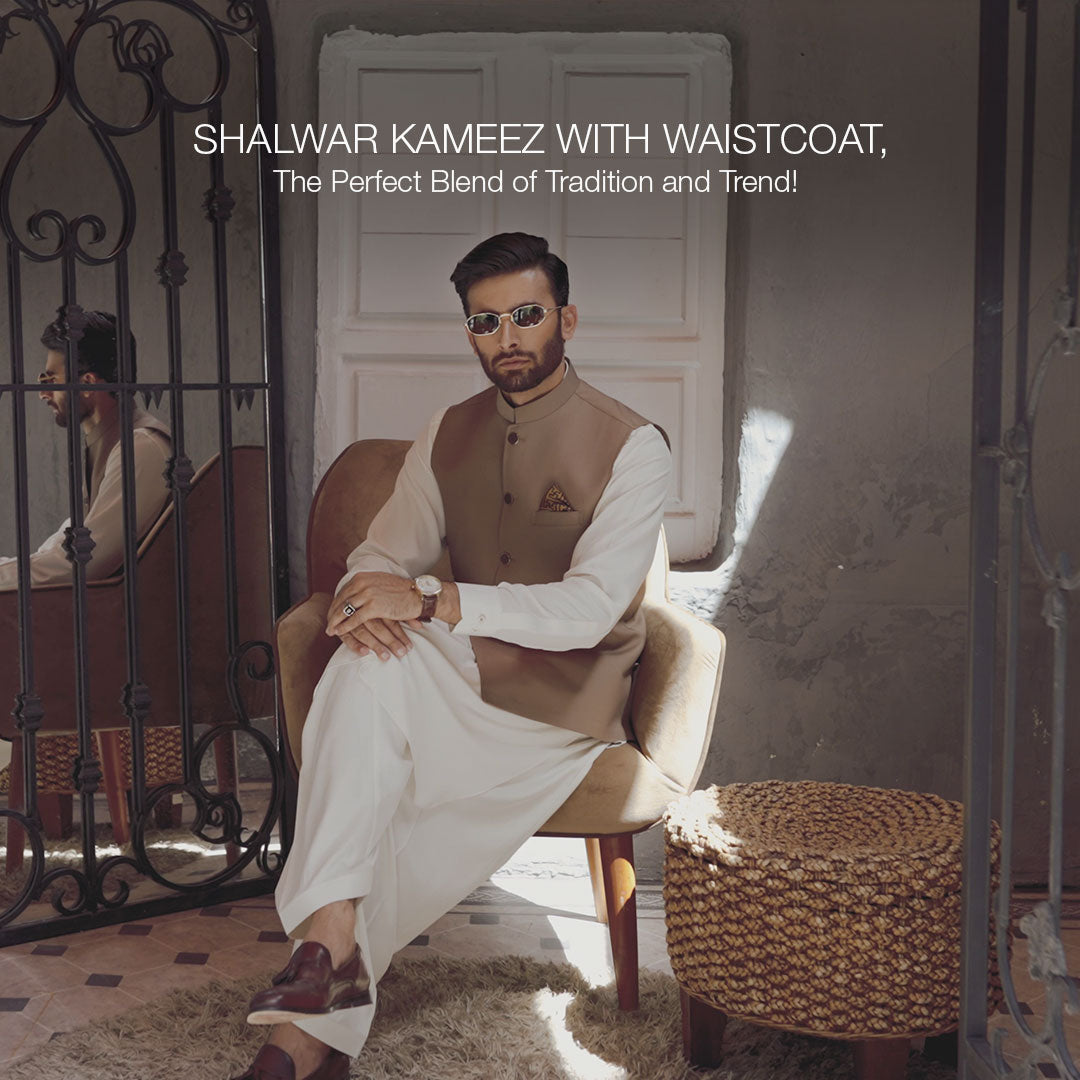 In a world where fashion trends are constantly evolving, the shalwar kameez with waistcoat combination remains a steadfast symbol of timeless elegance and cultural heritage for men in Pakistan. The allure of shalwar kameez with waistcoat captures the essence of tradition while welcoming modern influences, making it a true embodiment of the perfect blend between tradition and trend.
Men nowadays prefer to wear a shalwar kameez with a stylist waistcoat to make their dress sense look more appealing. When considering purchasing a waistcoat, it's essential to start with the base color of your shalwar kameez. Selecting the style of waistcoat that best matches your clothing comes after deciding on the base color of shalwar kameez.
Here are 10 ideas to help you choose the ideal color choices that showcase the versatility and charisma of shalwar kameez with waistcoat combo.
Grace of a Navy Blue Shalwar Kameez with Waistcoat
Navy blue is a dignified color that works well for formal occasions and weddings because of its deep, rich colors. Making an appeal is made easier by the Blue Birdseye Waist Coat, which gives the outfit a hint of elegance.  For those who want to radiate elegance and charm at formal occasions and cultural celebrations, this regal attire is ideal for all men ages.
Boski Shalwar Kameez with White Waistcoat
Boski shalwar kameez with white waistcoat which is cozy and gently drapes, ensures comfort throughout all seasons. The waistcoat with metal buttons displays the best craftsmanship. This combination provides a touch of elegance and charm by fusing classic components with modern aesthetics, making it a unique option for people who value the craftsmanship of talented artisans.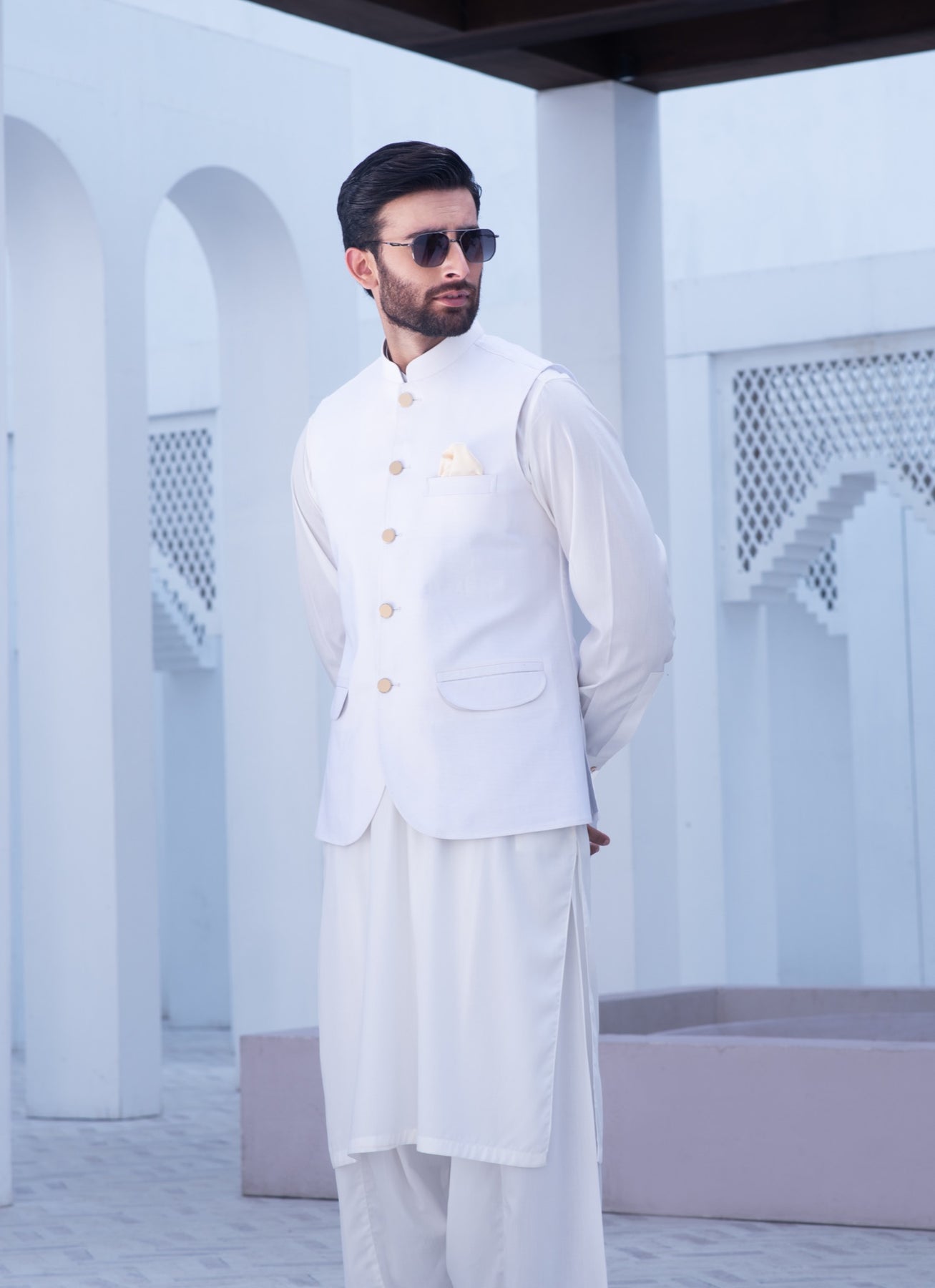 Classic Blend of Checkered Waistcoat with White Shalwar Kameez
Putting on a white shalwar kameez and a grey checkered waistcoat is a classic ensemble that never fails to make an impact. For celebrations and gatherings over the summer, this timeless outfit creates an energizing appearance. The attire is made more stylish by the contrast checkered pattern, which also provides a sense of sophistication. This timeless pairing exudes charm and refinement, making it a go-to choose for any event, whether it's a semi-formal one or a midday party.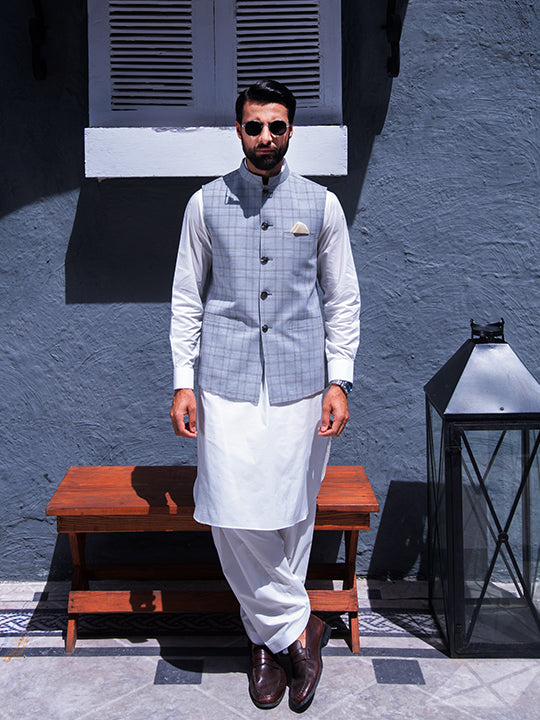 Perfect fusion of Black Shalwar Kameez with Maroon Waistcoat
Black is enduring, and when worn with a deep maroon waistcoat, the look achieves the ideal balance of the two eras. This combination originates confidence, making it a standout option for individuals seeking the ideal balance of modernism and classic appeal whether attending a wedding, festive celebration, or a formal party.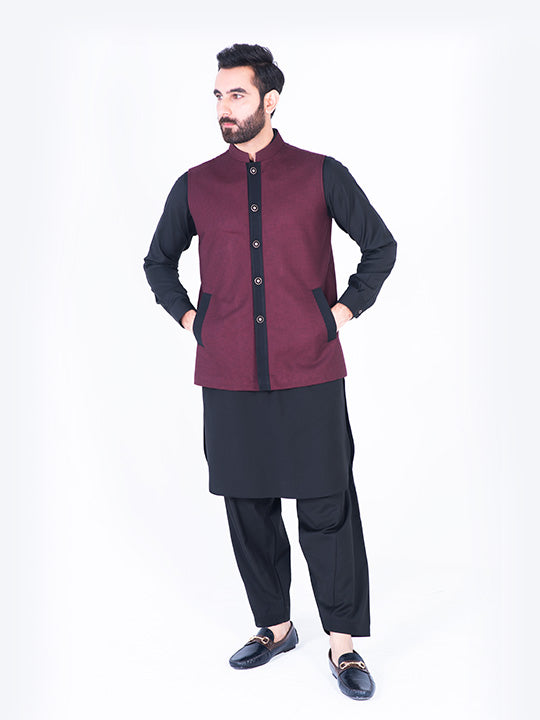 Timeless Charisma of Grey Combo
A grey wash and wear shalwar kameez and a steel grey waistcoat is the perfect combination for a classy ensemble. The shalwar kameez pairs wonderfully with grey, a color frequently associated with elegance, giving it a versatile option for both daytime and evening activities.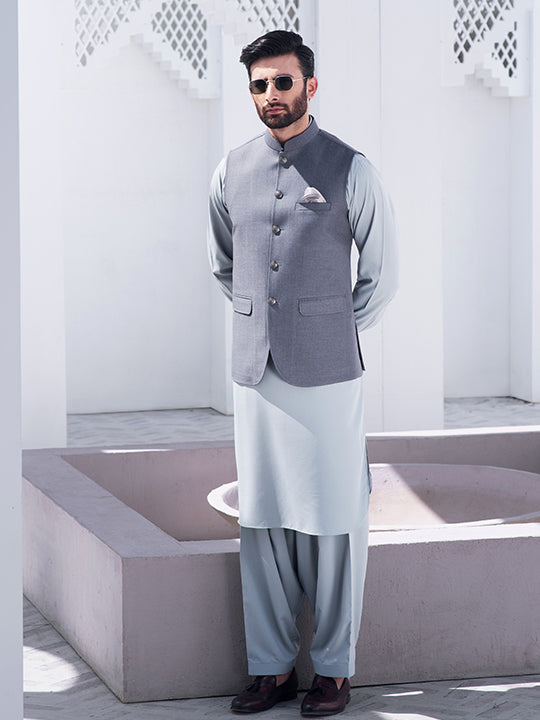 Wherever you choose to wear it, you will stand out with an air of grace due to the color contrast and style of this set.
Light Brown Shalwar Kameez Paired with a Sophisticated Waistcoat
A versatile option for everyday wear or semi-formal occasions, the light brown shalwar kameez with rich brown waistcoat emerges an air of elegance and simplicity when paired with an outstandingly designed waistcoat. The waistcoat blends the overall design with effortless grace, while the light brown color's modest appeal lends a touch of grace to the attire.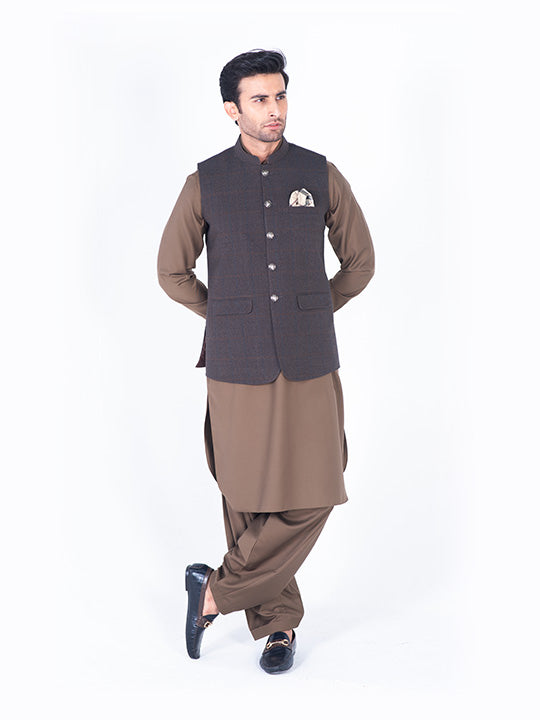 Shalwar Kameez with Dotted Brown Waistcoat 
The classic brown shalwar kameez with dotted brown waistcoat boosts the beauty of traditional clothing with a dash of contemporary style when worn with a beautifully designed waistcoat. This outfit is attractive and suited for a variety of occasions due to the modest yet stylish color variations between the shalwar kameez and the waistcoat. The shalwar kameez's collar feature further improves the overall design and gives it a classy feel.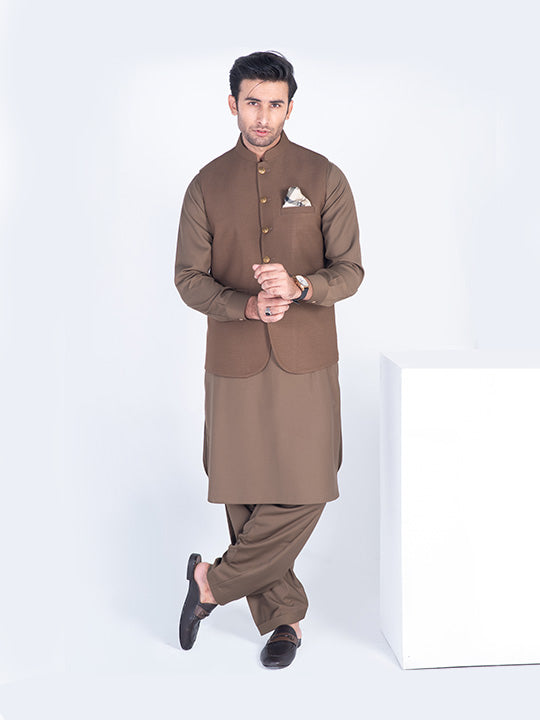 Make a notable statement in Black Waistcoat
A classy combination of the striking black waistcoat with a conventional black shalwar kameez for a dominating and bold appearance. This duo is a perfect option for formal occasions and evening parties because of its charisma and self-assurance. Every move you take will be noticed due to the impressive and sleek appearance the all-black color contrast gives you.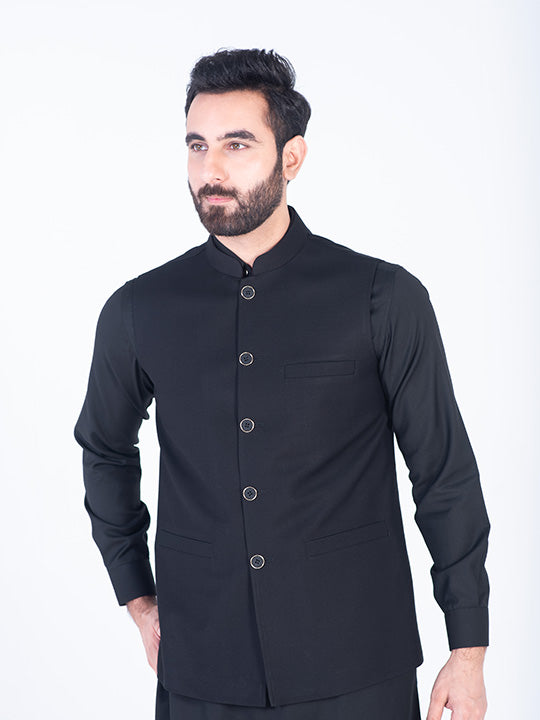 Classic Beige Waistcoat on White Shalwar Kameez
This outfit creates the ideal harmony between heritage and contemporary, giving it a versatile option suitable for both informal and semi-formal settings. An attractive and refined appearance that stands out is created by the way the white shalwar kameez and the beige waistcoat complement each other.
This combination emerges with charm and flair, making it a go-to choose for people wanting a blend of traditional elegance with a dash of contemporary aesthetics, whether attending a daytime event or a semi-formal function.
Blue Checkered Waistcoat with Striking Black
The pairing of the black shalwar kameez with the blue checkered waistcoat provides a magnificent appearance that is sure to turn heads wherever you go. Your charm will be on full display at every function you attend due to the contrast's added touch of elegance. This appealing combination is created to grab attention and showcase your individual sense of style and fashion sensibility.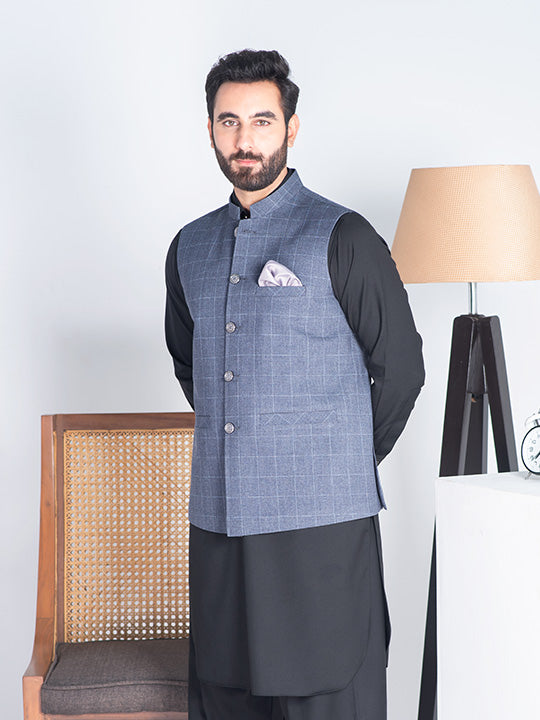 As the best men's clothing brand in Pakistan, Dandy Designs takes pride in curating the finest selection of shalwar kameez and waistcoats, allowing you to create the perfect combination for any occasion. Our vast array of colors, patterns, and styles ensures that you'll find the ideal match to express your unique taste and personality.
Posted in

2. Boski shalwar kameez with White Waistcoat, 6. Light Brown Shalwar Kameez with waistcoat, Beige Waistcoat on White Shalwar Kameez, Black Shalwar Kameez with Maroon Waistcoat, checkered Waistcoat with White Shalwar Kameez, kameez shalwar with waistcoat, navy blue shalwar kameez with waistcoat, shalwar kameez, shalwar kameez and waistcoat combinations, shalwar kameez with waistcoat, shalwar kameez with waistcoat for men, shalwar kameez with waistcoat online for men in Pakistan, waistcoat