Men's Shalwar Kameez Styling Tips for Different Body Physiques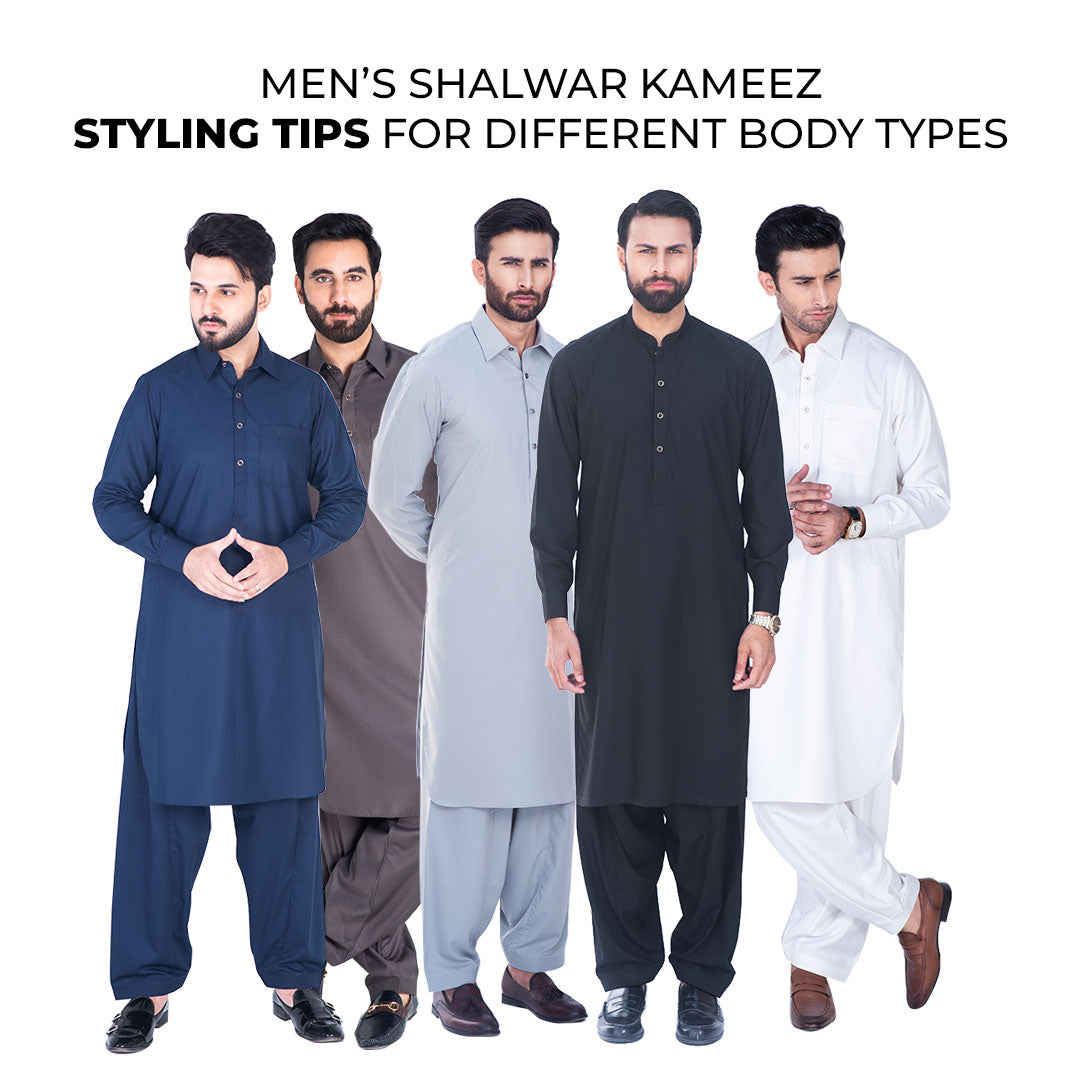 Men's Shalwar Kameez is an essential South Asian Outfit that has stayed in fashion since its origins dating back to ancient times. For Pakistani Men, this ethnic wear outfit has always been the go-to outfit be it for a formal event or just a casual hangout at a friend's place. Shalwar Kameez has got to be the most comfy yet sophisticated thing to come in fashion. Over the years this traditional attire has evolved from extravagant and splendid designs towards minimalistic silhouettes, offering versatility in style. 
One can never go wrong with Shalwar Kameez only if you realize that it is essential to understand your body type and choose one that compliments your physique. If you do not pay much attention to how you style your outfit you will most definitely end up doubting yourself which will have a direct impact on your personality. To avoid being uncomfortable and insecure you should take your body type under consideration when choosing an outfit. 
In this article, we will be highlighting styling tips based on men's body types that will ensure you look effortlessly stylish. By understanding and applying these tips, you can effortlessly enhance your style, exuding confidence and charm in every Shalwar Kameez ensemble.
Shalwar Kameez for Athletic Physique: Emphasizing On Muscles
Men who are into sports and hit the gym daily usually have broad shoulders and a well-defined physique. For them, it is important to know how to make their body look well-toned in this cultural attire. Here are a few recommendations for men with an athletic physique that can up their Shalwar Kameez game.
Opting for a fitted Kameez as it would help in highlighting your shoulders and chest. You should be careful with the fittings as an overly tight Kameez could kill the look whereas a nicely fitted Kameez would only move attention towards the natural contours of the body.
Choose a slightly loose-draped Shalwar to balance the outfit's silhouette.
You should prefer V-neck or Band Collar necklines in your Kameez as they help draw attention to your upper body. These necklines create a flattering outlook for athletics.
If you are looking to add a layer to your ethnic wear, a waistcoat is the perfect addition that not only completes the look but also shifts some of the attention to your waistline from your upper body.
Opt for subtle and minimal detailing embroidery around the neckline and cuffs if you want to as it would add elegance to the outfit without overpowering it.
Shalwar Kameez for Slim Physique: Adding Volume
For slim and petite men it is important to understand that creating illusions of volume can enhance their look from a 3 to 10/10. Styling this traditional outfit in a manner that adds depth to their look is what matters for people with a slim physique. Here are a few recommendations for men with slim physiques that can up their Shalwar Kameez game.
Opting for a straight Kameez with minimal pleats helps create an illusion of broader shoulders enhancing the look of the person.
Mandarin Collar would help in adding fullness and height to the appearance of the person.
Choosing Shalwars that are not loose helps in adding definition to the lower body without making the wearer appear overly thin.
If you are focused on creating a fuller physique image you should opt for contrasting colors in Shalwar Kameez. Experiment with pastel tones in the Shirts and pair them up with a white Shalwar.
Opting for lightweight fabrics like linen or cotton with subtle textures helps with adding depth and dimension, creating a more substantial look without overwhelming the frame.
Shalwar Kameez for Tall Physique: Embracing Proportions
Most tall men struggle with styling their outfits as some men complain about appearing to look too tall and some complain about not finding longer lengths in their ethnic wear. Here are a few recommendations for men with tall physiques that can up their Shalwar Kameez game.
Opting for Kameez styles that are medium in length falling a little below the knee. This length helps maintain the proportions of men with tall physiques and prevents the outfit from appearing too elongated.
Selecting a traditional attire with a band collar creates a horizontal line, breaking the tall frame. The band collar adds a touch of width to the upper body, balancing the overall look.
You should opt for regular-fit Shalwars that offer comfort without excessive volume. Choosing a go a balanced silhouette that complements the height is the wise thing to do if you are tall
Tall men are lucky when it comes to colors as they can experiment with a wide range of colors from darker tones to pastel ones they cannot go wrong with any of it.
Shalwar Kameez for Short Physique: Enhancing Vertical Elements
For men with shorter heights, it's the opposite you need to style your Eastern wear outfit in a manner that creates an illusion of height and enhances your proportions. Here are a few recommendations for men with tall physiques that can up their Shalwar Kameez game.
Opting for Kameez styles that are shorter in length, ending above the knee Shorter Kameez designs help with visually elongating the legs, creating the illusion of height.
Choosing straight-cut or slightly narrow Shalwars that do not have excessive volume can uplift the outfit. Avoid overly flared or wide-bottomed Shalwars, as they can overwhelm a shorter frame.
Wearing a single color from head to toe creates an uninterrupted vertical line, making you appear taller. Monochromatic outfits, especially in darker shades have proven to create a slimming and elongating image.
Limiting the number of layers in the outfit can play a vital role as well. While we have heard that layering adds depth, adding too many layers can make a short person look bulkier. Hence opt for sleek, well-tailored designs.
Men's Shalwar Kameez is a versatile and stylish garment that can be worn by men of all body types. When choosing this traditional attire, it is important to consider your body type so that you can choose a style that flatters your figure. With so many different silhouettes and colors to choose from, you are sure to find a Shalwar Kameez that you love and that makes you feel confident.