Fascinating Ways of Styling Black Shalwar Kameez and Waistcoat
The universal Black Shalwar Kameez color that never goes out of style. Not only does it make you look attractive but you appear to look confident in it. A black wardrobe is considered to be powerful, and by far the best color when it comes to clothes. The fashion industry has been obsessed with this color since centuries, innovating the designs and patterns in every way possible.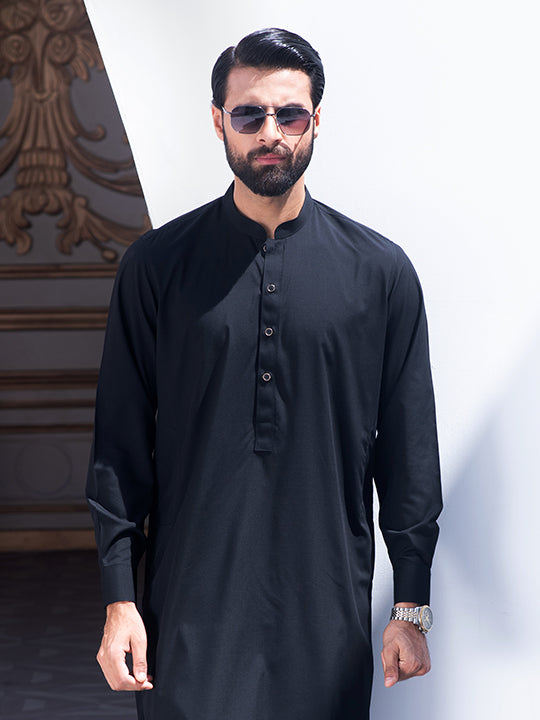 With this transformative era, famous brands like Dandy Designs, work with the vision to create modish traditional outfits by meticulously paying attention to detail, traditional aspects, quality, and bringing shalwar kameez back to the spotlight.
Black Shalwar Kameez is a Game Changer
Black is the fashion game, because no matter what the skin color, or body physique is, it makes everything look beautiful and youthful. Not just this, black outfits are versatile and offer a suitable choice of wear to many settings, from casual to formal.
This color has got many style benefits from being the "go-to choose" for every individual to being the "safe option" for all genders and occasions. The choice of clothes and colors you use reveals a lot about your personality, it not only signifies the qualities mentioned earlier but exudes trustworthiness, elegance and professional image. Because black isn't just a color, but "a statement of who you are".
Black with Benefits
For those who love black, they don't need to worry about wearing it every day before Dandy Designs has got you covered, where you can wear your favorite black shalwar kameez and style it differently with coloured waistcoats and accessories to give a completely new look. The benefits that come with this color:
Black is the eternal charm

A safe go-to option

Helps give a toned appearance

all age groups can wear and style it

It helps save time and money
What could be better than having a "wardrobe with lots of Blacks"?
Whether it's a festive Eid occasion or jummah, black is the first color that comes to mind for your "what to wear" question. Here's a guide you need to save to redefine your wardrobe.
The Charming Black Ensemble
The Dandy Designs double stitched, straight pointed collar shirt, with full sleeves round hemmed buttoned cuffs, with one front and two side pockets is a vibe. The visible placket on the front makes it an "easy-on" choice. The tailored straight salwar, with a wide waist and few pleats add more to its grace.
This combo is the most preferred due to its adaptability, appearance, attractiveness and style. The fabric is important as the comfort and overall look entirely relies on it. So, choosing the fabric first should be a priority.  One can wear it on every occasion, be it Eid, Jummah, office setting, professional business night, or a wedding event.
8 ways to Style Different coloured Waistcoats with Black Shalwar Kameez
Who doesn't want a hassle-free outfit especially when you have to dress up early in the morning? These 8 classic-coloured waistcoats by Dandy Designs can be the perfect combination you can accessories with your shalwar kameez. And the best thing is how black compliments every color if styled correctly with waistcoats. These vests have a tendency to be an element of an effortless appeal. Here are a few waistcoats you can pick according to your color choice and style it with the everlasting favorite black outfit. One waistcoat for every Friday is what one needs.
Black on Black, The Ethereal Combo
"Black Waistcoat with Black Shalwar Kameez" This monochromatic ensemble is everyone's wardrobe staple, no matter wherever you go, every Pakistani would be an owner of this attire. The simple and classy combo exudes glamour and vibrancy. One should never underestimate the power of the Black attire. The stylish waistcoat with a mandarin collar, round hemmed, two contrasted welt pockets on the inner side, one welt and two flap pockets on the front. The waistcoat is elegantly stitched with a fine contrasted piping and topstitch inside. The whole black ensemble is exceptionally elegant, and a perfect pick for every occasion.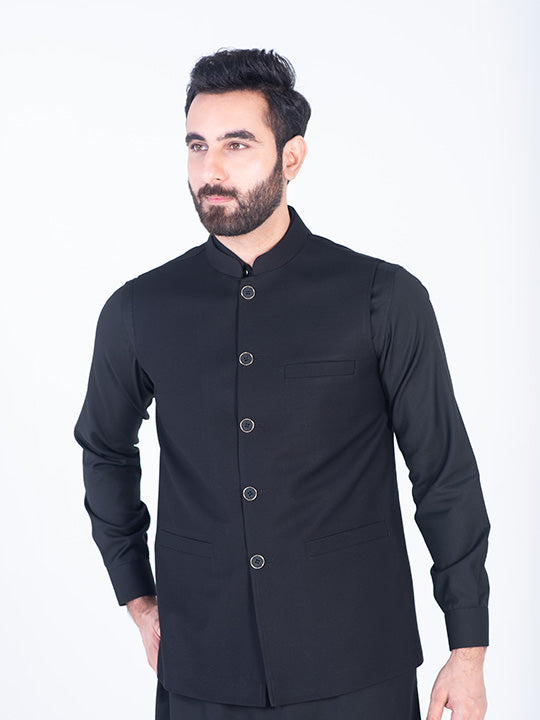 Black and Grey: The Power Duo
As they say, black goes with everything. The timeless pairing of this checkered wool grey waistcoat with solid black kameez and shalwar can never go wrong.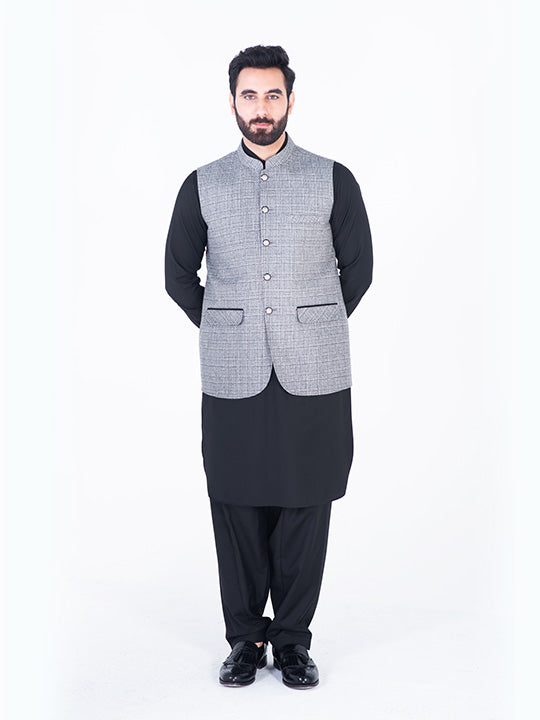 The double-breasted formal wear coat gives an essence of elegance and real stability. This three-welt pocketed vest with the stylish flat shank black buttons, on a light grey textured waistcoat is the perfect choice for a twilight look.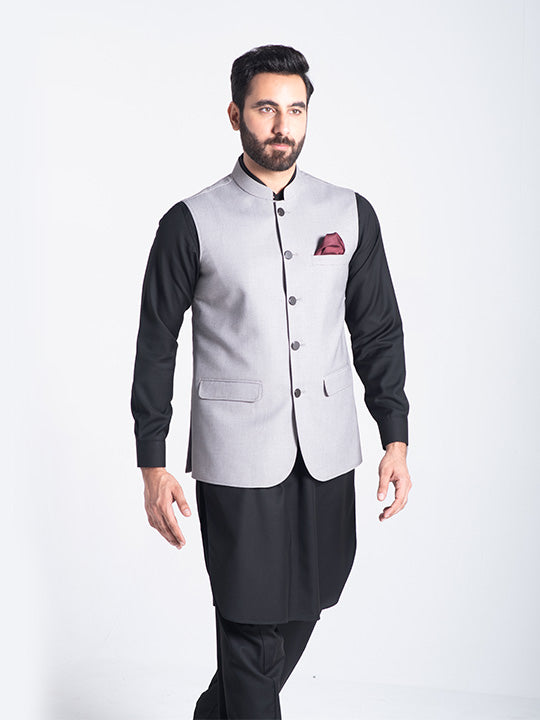 Or a for a textured linen grey vest, with silky black pocket chief that compliments the under suit. This attire holds the highest sartorial standard among their other combos. Just the perfect look for a friend's wedding.
Dress in Harmony with Black and Blue
Where wearing the same tone can be bold, you can style lighter toned hues, that makes you look charming. The greyish blue chequered waistcoat with a pocket folded silk pocket chief on a black attire is a must have. For a formal look, this style will give a striking bold look.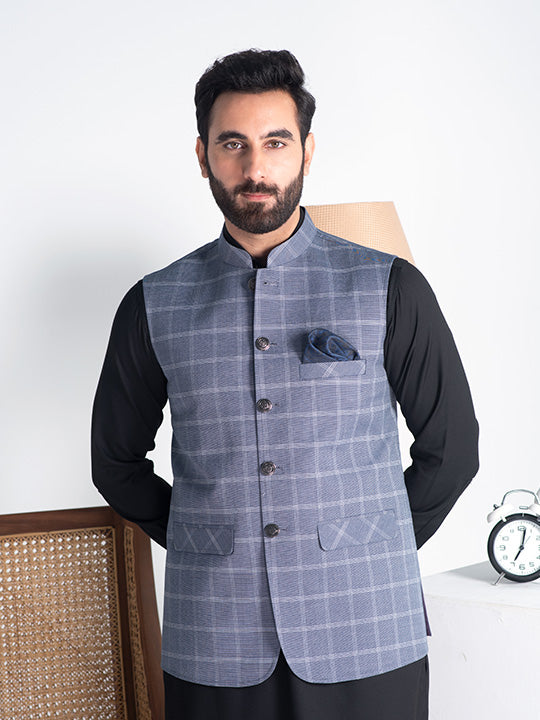 Who knew colors would change the entire look? Choose this cool blue Birdseye tropical vest for a fresh eye-catching appearance. And stun a modern traditional men's voguish vibe by adding a more relaxed twist to it.
Black and White: The Shades of Sophistication
The combo of black and white is the ultimate style to adopt when it comes to high octane sophistication. Go for a refined look in a black and white outfit and effortlessly accessories the look with a watch, pocket chief and a classic footwear. This is [perfect for adults in their 30s.
Keeping it all Religious with Maroon
For a more polished look try pairing a mini check maroon textured waistcoat on black. This hemmed round mandarin collared sleeveless vest with a visible long black striped placket and two flap pockets is a look one should opt for. The ability to pull off this three-piece combo would reflect your personality and maturity.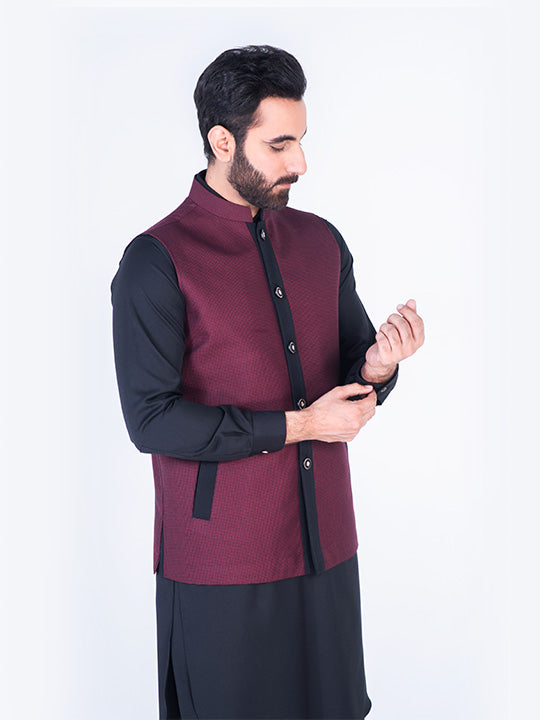 Building a wardrobe could be a hassle, but once you understand your choice, style and taste by establishing a strong foundation, it becomes easy. To nail all your fits, you need to try various styles to find the best outfits for you. And a great way to enhance the overall look is to choose your favorite accessories with it.